Founded in 1927, Our Lady of the Rosary Cathedral is a community which continues to serve as the heart of the diocese.
View parish history
---
Ecclesial Staff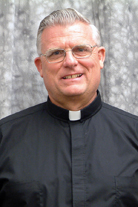 Pastor: Rev. Alan Jenkins, S.V.D.

Parochial Vicar: Rev. Paul P. Appiah-Kubi, SVD
Deacon Thomas Dewhirst

Mass Times
Weekend Masses:
Saturday: 4:00 p.m. (Vigil)
Sunday: 7:00 a.m. 8:30 a.m. (Spanish) 10:15 a.m. 12:00 p.m. (Spanish)

Weekday Masses:
Monday - Friday 7:00 a.m.
Tuesday: 6:00 p.m. (Spanish)

Devotions & Holy Days
Holy Days: See Bulletin

Devotions: Chapel Hours: 7:30 a.m. - 10:00 p.m. Daily
Saturday 7:30 a.m. - 12:00 p.m.

Confessions
Saturday 2:30 p.m.